Reunion 2007
Holy Crap, It's Over!


Out with the Old
Just a quick note about an important site update. I wouldn't want anyone to think that there's anything better to do than care for the reunion site 4 years before the next reunion. After all, we on the Reunion Web Site Committee have pride. Or at least we know how to spell it.
But in this case, it was really way past time to remove the 15th reunion bios, especially since many of them had spam-friendly email addresses listed on the pages (the 20th reunion bios are more clever about hiding the addresses, so they're still listed for everyone's obsessive enjoyment).
March 9, 2008

Many More Memories
More pictures posted, from Keith, Jim, Eric, and Stacy. Keep 'em coming!
July 4, 2007

Plenty of Pictures Posted
Many more pictures posted, of people, places, and parades. Check them out.
And send in more, we'll post yours too.
June 30, 2007

Tunnel Vision
For anyone curious about what the tunnels now look like, Nancy took some pictures are reunion that are posted on the Tunnel Vision page.
June 29, 2007

Reunion Regurgitation
There's now a page set up (handily linked from the "Tales of the 20th" button to the left) for any blurbs or pictures that people want to submit to the site. Check them out. Do you remember what happened that weekend? Would you like to?
June 29, 2007

Post-Reunion: First Impressions
As over 140 of us can attest, reunion did, in fact, happen and it's now completely over. Here are some brief thoughts and memories from the weekend, for those that weren't around or don't remember:
Record-breaking attendance: Not only did we smash the previous record of alumni attendance percentage for a 20th reunion (149 at last count, or 30%), but our class also had the largest number of people on campus of any class. Some nay-sayers might pooh-pooh this by claiming that this means we simply have too many kids, but we prefer to think that this means we had great support from our families that we dragged along. The class of 2002 had something like 276% of alumni attending their five-year reunion (also a record), but fortunately we had them nailed in the reproductive category, since they are apparently still too busy partying to have established the large support network that we enjoy.
Records aside, it was fantastic to see so many of us there. Reunion is about the people, so the more of us that can make it, the more fun it is for everyone.
Parties: There was a constant flow from the kegs and the bottles at Parish House, although it seemed like there were less regrets and headaches the mornings after than in previous Carleton parties. Could it be that we've become more socially responsible drinkers? Nahhhh - just older. On the other hand, there were reports of Phil Z blowing away those whipper-snappers of '02 in a chugging contest, and it did seem like some classmates were never seen without some kind of bottle in hand. So the traditions continue. Just a lot ... more ... quietly.
Winners needed: Reading through the convocation program was like reading several 'Voice articles in succession. You know the ones: they make you realize how little you have accomplished in the same time as those in the articles have saved the world. Apparently, the class of '82 spawned a lot of over-achievers by their 25th reunion. It's clear that by our 25th, we'll need to win some awards ourselves. Many might see this as an opportunity to go out and save a bit of the world, although those people are probably not '87-ers. A far simpler approach would be to ask the college for awards in categories that we can actually win. Possibilities being considered include:

| | |
| --- | --- |
| | Leading a Balanced Life: This award is given to that individual who most exemplifies the ideal of a happy life. They work, they live, they have friends and family. Period. |
| | Staff of Mediocrites: This award is given to the person who has achieved the least throughout their life. Over-achievers would be nowhere without the nameless masses to surpass. The recipient of this award goes to one of them, chosen at random. Details are still being worked out on this award, since receiving it automatically disqualifies the recipient from consideration. |
| | Sayles Hill Hangout Hero: This award is given to the individual who is far and away the best at simply hanging out. Practiced during our time at Carleton, by various activities from playing pool to sitting outside the bookstore to playing pool to checking mail, this skill is further developed throughout the recipient's life, from having never moved out of the Carleton slums in the Cities, to a ten-year PhD program, to playing pool, to coasting through a myriad of careers, to embarking on a never-ending journey of discovery to visit every coffee shop in the upper midwest. |

Negotiations with Carleton on these and other awards will follow. If we get around to it.
Money money money: The class of '62 invited us over to their tent, seduced us with drinks and romantic music, and then tried some moves on us: they challenged us to raise about $1.4 million for our 25th reunion. We're still considering whether to report their unsolicited advances to the authorities.
Got some memories of your own? Send them in and we'll put them on the site.
How about pictures? If you have any pictures from Reunion, contact us (remember to include your email address) and we'll work out the details of getting them.
Check back here for more news and pictures soon. And start planning to attend the 25th now. It'll be fun.
June 26 , 2007

Inactivities
As reunion gets underway this evening, most of you are probably wondering: "How does Carleton come up with the schedule of activities for the weekend? Are there any other options?" Well, you came to the right place; from our mole on the Reunion Activities committee at the college, we obtained secretly leaked plans which detail other options that were considered and summarily chucked.
Do you like some of what you see here? There's no reason why you can't do these things in addition to the activities hosted by the college. What are they going to do: not graduate you? So go ahead; take advantage of these inactivities as well.
Fundas: Parade and 3-kegger in the middle of the main street of Dundas. Students have such a strong connection with this other community (often referred to as "Northfield's Half Step-Sister City that Noone Talks About") through their strong support of our keg parties during our years of alcoholism at Carleton, that many felt that a celebration in the heart of Dundas would be fitting. Fake IDs required.
Get Lost: A fun contest that is an unguided tour of the Arb at night. Students will enter the Arb at staggered intervals between 10 PM and 3 AM on Friday night. The last person to return wins (prizes will only be held until December, 2009, after which the winner will be declared dead).
Gone Fission: This fun-filled activity for the whole family will marry two of Carleton's core strengths; fishing in Lyman Lakes and physics. One of the labs in the physics building will be pumped full of Lyman water and populated with fish. The water will then be bombarded with gamma rays. Then people will enter the tank in scuba suits to collect as many mutant fish as possible. These fish may have developed super-powers, so look for extra exciting times!
Fish dinner at East Dining Hall after the event.
Picture Perfect: This is another contest. The classmate that gets photographed in the most non-'87 class pictures wins. The hard one is '47; they're always on the lookout for this gag!
Stuporman: This is a drinking contest, pure and simple. All classmates that can drink over the max limit win this one. The max here is age-adjusted, so drinking anything over one beer qualifies.
Myinal, Yourinal: This is a tour of the campus bathrooms, from the historical outhouse of Willis to the modern AARP-approved bathrooms of the Alumni Housing buildings. The tour will be led by Associate Professor I. Gotta Peealot.
My Job Sucks, How About Yours?: This frank discussion will start on a low note and go downhill from there. Free tissues and hugs available. Meeting will conclude with a tour of Carleton's Career Center and end up at the bar.
June 14, 2007

Reunion: Music to the Ears
To substantiate the rumors about the archives of old Senators tunes, here's something to listen to. That page has a tune from the concert of Josh & the Senators in November of 1986, when the band warmed up for The Suburbs.
(Note: This should be able to play in your browser. But your browser may also hang. But isn't it worth the risk?)
June 13, 2007

Arty-Smarties
'87 Classmates in the Art Exhibit and Book Signing events
Just in case you were going to blow off the art exhibit or book/CD signing as being completely unrelated to our class and having nothing to do with either beer or food, you should know that we have 3 classmates in the art exhibit (Craig Houser, Madeline Larson Muntersbjorn, and Michael Rhine) and 1 in the book signing (Erika Dillman). So go get arty and hobnob with these important and sophisticated peers. Maybe they can even be your Brushes with Greatness for next reunion.
June 12, 2007

Apparent Info
For those with kids, some late-breaking info: There will be group babysitting from 8-11 PM on Friday and Saturday nights at Parish house, just for kids of '87. That's three hours each night of pretending you're not an adult. And you didn't even have to spend months searching for a babysitter. Put that together with Camp Carleton (ages 5-12), the kids activities on Friday and Saturday afternoons at Parish, and a bouncy house at Parish, and a good time will be had by kids and parents alike.
June 12, 2007

Reunion:
A lot like college,
but without the class
Less than a week left. Only a few days to get ready. Have you:
| | |
| --- | --- |
| | Arranged your book signing times? |
| | Worked on your speech in case they ask you to spontaneously cover Convo? (Tip: You might start out with the following: "I want to thank President [insert name here] for asking me to stand in for [insert name of more important person here]. It was such a surprise, I didn't have any time to prepare, but here are a few quick notes [take out printed, bound copy of speech]..." |
| | Prep'd some good mingle conversation topics, like "When I was running the Juice Boxes for the Mildly Parched campaign in Togo, I reflected on my earlier experience in the much-publicized Fruit Loops for the Famished campaign in Kjerkistan..."? |
| | Practiced talking to people again, after 20 years in academic solitude? (Tip: "You don't smell nice" is probably not a good starter phrase) |
| | Flexed your Frisbee fingers? Rested your Rottblatt wrists? How about your Hauenstein Hurl? |
| | Finished that fifth Masters Degree and gotten a job yet? |
| | Finished comps? |
Just to whet your appetite, here's are some old pictures to rock your recollection: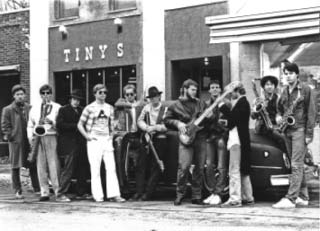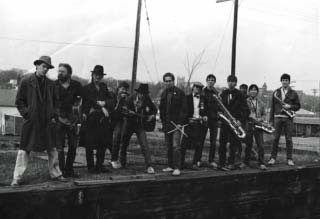 By the way, rumor has it that tunes from the Lost Archives of the Senators* might be heard around Parish House next week.
*Senators here means both the "Josh & the Senators" original band as well as the "& the Senators" incarnation in Winter/Spring of 1987. A veritable treasure trove of lost classics. But how can you ever lose the blues?
June 10, 2007

119 and counting
When we had 114 classmates registered, we were less than 25 away from the 20th reunion attendance record. Five more have registered in the past week.
So it looks like we're on track for reaching it ... two weeks after the event.
Meanwhile, here's a new activity offered by '92's Peter Gunn:
Reunion Revue: Reprise & Refrain

Thursday, June 14th, afternoon and evening
Nourse Little Theatre before dinner (4 p.m.), Arena Theatre after
dinner (8 p.m.)
Informal Musical Theatre Get-Together in Need of a Catchy Title!
Show Tunes and Standards!
A piano, a bunch of alumni, and a dream!
All class years welcome...
Bring yourself, your musical theatre-loving friends, and a song in
your heart.
(Better still, if you can, bring two copies of your favorite sheet
music to make life easier for our friendly accompanist.)
"Who we were then, who we are now"
Come hang out and sing a few songs with us...
In other news, those planning on joining in the fun should start getting ready. Here's a convenient shopping list (amounts are per-person):
| | |
| --- | --- |
| | Mosquito repellant (4 cans) |
| | Anti-itch cream (1 gallon) |
| | Safari cap w/ full body bug netting (1) |
| | Winter outfit (parka, ski pants, long underwear, scarf, boots) (1) |
| | Lock de-icer (1) |
| | Rottblatt glove (1) |
| | Frisbee (1) |
| | Kids (as applicable) |
| | Cocktail party conversation tidbits (17) |
| | Whopping great lies about your life (3) |
| | Spouse (1) |
| | Affair partner (1-2) |
| | Fake ID (1) |
Also, here are some things that you might want to do in preparation for the big weekend:
| | |
| --- | --- |
| | Get your act together so that you have something to discuss |
| | Botox treatments |
| | Hair coloring |
| | Liposuction |
| | Get in shape |
| | Read all Great Books |
| | Write great American novel |
| | Save thousands of lives in third world nation |
| | Read up on current events |
| | Form opinions on Important Things |
| | Build up tolerance from one beer to two beers a night |
June 2, 2007

Reunion Record?
We generally think of our generation as one of apathy, if we bother attaching any label to it at all. So it is with some bemusement, almost nearing mild satisfaction, that we find ourselves closing in on a record attendance for our 20th reunion this year.
At last count, according to an extensive data-gathering exercise in which a team of analysts painstakingly counted individual classmates on the reunion attendance page, there were 116 of us signed up for the weekend, or over 23%. Apparently, less than 25 more classmates would give us the highest percentage of attendance for a 20th Reunion.
Phone your friends. Enlist your enemies. Call on classmates you've never heard of before. Get them to come to Northfield for the weekend. Reunion is fun because of the people (and the endless bowls of Fruit Loops in the cafeteria, of course). Just like Wednesday night parties in Sayles Hill, the more of us there are, the more fun the party is (at least until the kegs start spilling and you start slipping in all of the greasy dirt-beer scum). So let's get all of the folks there that we can.
Meanwhile, we've finally posted a schedule of events for that weekend. It basically mirrors the official schedule on the Carleton site, but it's edited for our class.
May 28, 2007

Less Than a Month Left (Tick, tick, tick...)
Several more bios came in in the past few days. In the meantime, you can check out the actual registered-attendee list at Carleton. Today's count is 214. This includes kids, so I think the actual number of '87 classmates is more like 12. But we're a lot heavier now, so it'll seem like 350 or so.
May 5, 2007

Register Now, Save BIG!!!
Planning on going to reunion, but haven't gotten around to actually registering yet? Find life so all-consuming that the act of scheduling and booking a trip to Northfield melts your brain? Can't remember the URL and are using that as a petty rationalization?
But what if the college offered you a 10% savings on the cost of the weekend?! Wouldn't that help? That savings will surely buy a couple of rounds at The Contented Cow. Of course, you'd have to be there for reunion in order to care about the price of a round at the Cow. So you'd better register. Now.
Well, here's your chance: register before May 1 and Save Big.
Operators standing by
No purchase necessary to win, but there is no contest so nobody wins anyway. Chances of winning estimated at 0 in 5,436,789,224. Offer void in North Dakota, just for pure spite.
April 29, 2007

Skip Class, Not Reunion
Another day, another couple of bios. Welcome, Cindy and Clark (we hope you make up your minds to join us in June).
The Poetry Corner submission form died a quiet, yet dignified death today. Don't think for a moment that it was because nobody submitted anything. Ever. No, poetry is used to neglect. It sits there for decades in its thin volumes on the library shelves, gathering dust. It wafts out of the mouths of poets over the chairs of empty rooms at Readings. It floats over the heads of dozing students in English 10 and 11.
But poetry likes it that way. It's more ... peaceful, being alone.
No, the poetry form had to go because the spam devils found it and have been clogging the inboxes of the Poetry Submission Processing Committee. So that's it, no more poetry. Just the two pieces that are there already. It's more peaceful that way.
April 5, 2007

It's here.
It's finally here.
The moment you've been waiting for, the reason you've bookmarked this site, the thing that's kept you doing page-refreshes every 2 minutes for the last several months when you really should have been working instead:
Online Registration is finally open!
So what are you waiting for? A punchline? Go register, already!
Meanwhile, here's a thought for everyone: do you have any friends in the class that haven't registered their bio information. Or are you guilty of this yourself? Remember: it's not just a spectator sport. Get your bio up there for others to read, and bug your friends to post theirs as well. And pester them to register for reunion while you're at it.
Reunion is a lot like like Wednesday night dances at Sayles Hill (especially back when they used to serve 3.2 beer); it's more fun with more of us there.
Finally, there's a new article, Stoperation, posted on the Reunion Rag page. Enjoy.
March 17, 2007

Nice quote from Cliff Anderson, whose bio just got posted:
"For those of you who have never shown up these past 5, 10, and 15 years, SHOW UP. It is really cool and it is like being put in a time machine in 1987 and being blasted off into the future. So, come to the 20th and you will find out what it feels like to come face to face with your future 20 years later. I highly recommend it, it is a great ride. Don't make excuses. You are just a plane ticket away and a hard dorm bed at Parish House (with a rental packet of those comfy white sheets and a pack of two scratchy white towels) away from a great time."
So there. No excuses. Come to reunion. See the future. Be the future.
February 25, 2007

New bios are piling into our offices. That whole Reunion Letter guilt thing sure works wonders...
In a stunning coincidence, it turns out that two different classmates submitted the same words of wisdom within 24 hours of of each other. Freaky!
February 14, 2007

Check out the new Poetry Corner, where things are going from bad to verse.
February 10, 2007

Check out those attendance stats above. Did we even have this many people in our class? The vast majority have said "Yes, we're coming to reunion!" And the rest are just temporarily confused. Or maybe they're waiting for you to make up your mind.
Meanwhile...
It's hip, it's new, it's so totally web-geeky, please welcome the:
Read it, love it, be it. Leave your mark on Carleton posterity by writing a note to your peers. Quick - do it now before so many other people do that yours gets lost in the shuffle. Be the first on your block. Be the first from your ISP. Be the first from your dorm. Be the first. What are you waiting for, an invitation? Okay: please leave a note. The website gets cold and lonely at night with noone to talk to except search engines.
January 30, 2007

Sure we're older, but at least we've gained weight.
Maybe it's time to step back and see how we're really doing.
| | |
| --- | --- |
| | Is our Liberal Arts past really herstory? |
| | How about our hair? |
| | Is the "left" the new "right"? |
| | Are we raising our [kids | pets] to be just as lost and pathetic as we were? |
| | Does it still seem like the goal of a weekend is finishing off that case of longnecks? |
Take the new Aging Liberal Arts Geek quiz. See how you stack up. Remember: it's not about how you feel about yourself, it's how you compare to others.
Meanwhile...
Music! Videos! Pictures! We're thinking about compiling "memories" from back in the day. We're still trying to figure out how to collect and compile them, but in the meantime if you have ideas or material you think could be used, contact us.
January 14, 2007

Some very exciting site updates:
| | |
| --- | --- |
| | Bios: Lots of classmates have posted their innermost thoughts, exaggerations, and outright lies. Have you? |
| | Reunion Rag: New articles. More hard-hitting journalism, bringing the facts to life like that corpse in Frankenstein. |
| | Official Info: Page with the beginnings of real information about attending reunion |
| | Giving: Page with some instructions on opening your wallets and purses |
November 11, 2006


You can fool yourself.
You can fool your kids.
You can even fool your aging co-workers.
But you can't fool Carleton.
You're nearly five years older than last reunion, so it must be time for...
20th Reunion: June 14-17, 2007
Save the date. Start looking for baby sitters. Start saving the money for bus fare. Start building up your tolerance to two whole beers, 'cause we're gonna party like there's no alcohol purchases allowed on Sundays.
"But what will I wear? That dress has blood and jello all over it!"
In the meantime, entire your bio, send us some ideas, send me some feedback on the site, check out the latest Reunion Rag, reminisce over old Zoobook photos, or look at some pictures from the 15th reunion in 2002.

Look for updates to this site as things get all hotted up.

We should also start thinking about the future. We're all turning 40 around now, and planning for the future should be on all of our minds. Things like college tuition for our kids, where we want to retire (and in which model of double-wide), what cup we want to store our teeth in overnight, and what epitaph we want on our headstone (mine: "Back soon: leave a message").
In particular, we ought to be planning themes for future reunions. After all, when these milestones occur every five years, what are the chances that we'll have enough presence of mind to think of it then? Better to get it out of the way now and just lock it in while we have the opportunity.
Here are some suggestions for future reunion slogans:
| | |
| --- | --- |
| | 2007 (20th): Still looking good |
| | 2012 (25th): Sorry we weren't able to come up with as big a donation as other classes on their 25th. |
| | 2017 (30th): Starting the long ride downhill |
| | 2022 (35th): We've looked better, but we could look worse |
| | 2027 (40th): Some of us still have hair. In some places. And when'd we get so fat? |
| | 2032 (45th): We'd be retired if we hadn't lost it all in 2000 |
| | 2037 (50th): We can't believe we made it this far |
| | 2042 (55th): We're not (all) dead yet |
| | 2047 (60th): We forgot to go. When's reunion again? |
| | 2055 (65th): Dadgummjit, we're old. |
| | 2060 (70th): Carleton who? |
| | 2062 (75th): [no answer] |
September 10, 2006


Old, Tired Articles:
Becky Z Takes Over in Bloodless Coup
Crucial 2002 Reunion Awards Update
Visitors to date: